Tahoe Production House was asked to Live Steam this years Lake Tahoe Community College Graduation. We set up three cameras and a PA System for the 1,000 person event on the new Soccer Field of the College. The event was widely attended and we got just over 1000 views on the Live Stream. We used Laika to stream the event for free!
We also created a Thank You video, check it out below: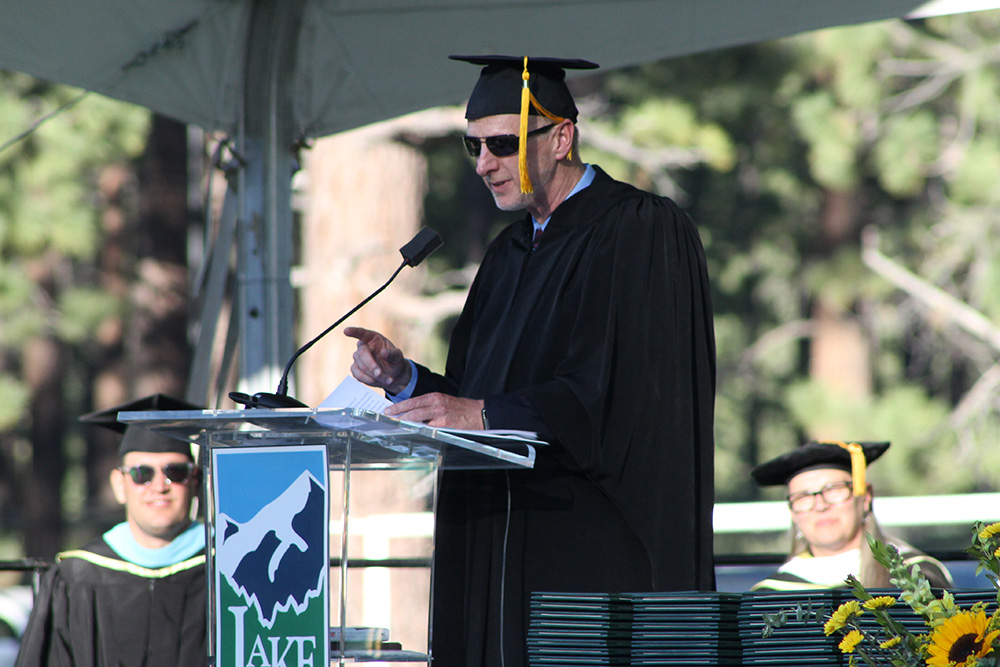 The forty-third annual Lake Tahoe Community College graduation ceremony was held Friday evening on LTCC's synthetic turf soccer field. The theme of this year's ceremony was "The Journey Forward," a topic that was well explored by several inspirational guest speakers, including keynote address speaker Chet Pipkin, founder, chairman and CEO of Belkin International, which manufactures personal computer, networking, and smart phone products worldwide.
Pipkin talked about his company's success, saying that "three Belkin items are sold every second someplace around the world. But this stuff on the business side, it really doesn't matter that much to me. The biggest thing to me is family – we've got a pretty big one. The second biggest thing to me is, way, way beyond work, is service to others. I've been inspired by the stories of the people who have spoken here, talking about and celebrating the great service that is being performed by a lot of our students here already."
In addition to supporting student scholarships and academic programs at LTCC via donations to the college's Foundation, Pipkin and Belkin have also both been major donors to various projects and organizations in the Los Angeles area, where the company's headquarters is located. In particular, Pipkin has focused his philanthropic efforts towards issues involving youth, education, and closing the educational achievement gap. In his speech, he imagined a future where students' socioeconomic backgrounds would not be a factor in determining educational success.
"I'm a huge believer that the number one thing that our society needs to address is the achievement gap," Pipkin told LTCC's grads. "Personally, I know of no more effective weapon to close this gap than education. So my hat is off to everyone here either providing education, or investing in yourselves, building your education. It's incumbent upon us to lean in hard on this, to get that achievement gap closed. We have to make sure we're providing the right kinds of opportunities inside the systems of our society. If people are finding success inside these systems, they'll keep working within that system. To the extent that we do not provide these opportunities for success, if we don't lean hard into education, people start working outside the system. It's at these moments when tragic things occur. So let's keep leaning into education!"
In his remarks to the graduates, LTCC Superintendent/President Jeff DeFranco was also future-forward in his thinking. "Some days, life is all about your dreams, hopes and visions for your future," he said. "Other days, life is just about putting one foot in front of the other, and staying on the path. And that's okay – each day is a chance to put another brick in the building of your future, so staying on track and keeping the focus on your vision, using your unique strengths and aptitudes, will get you there."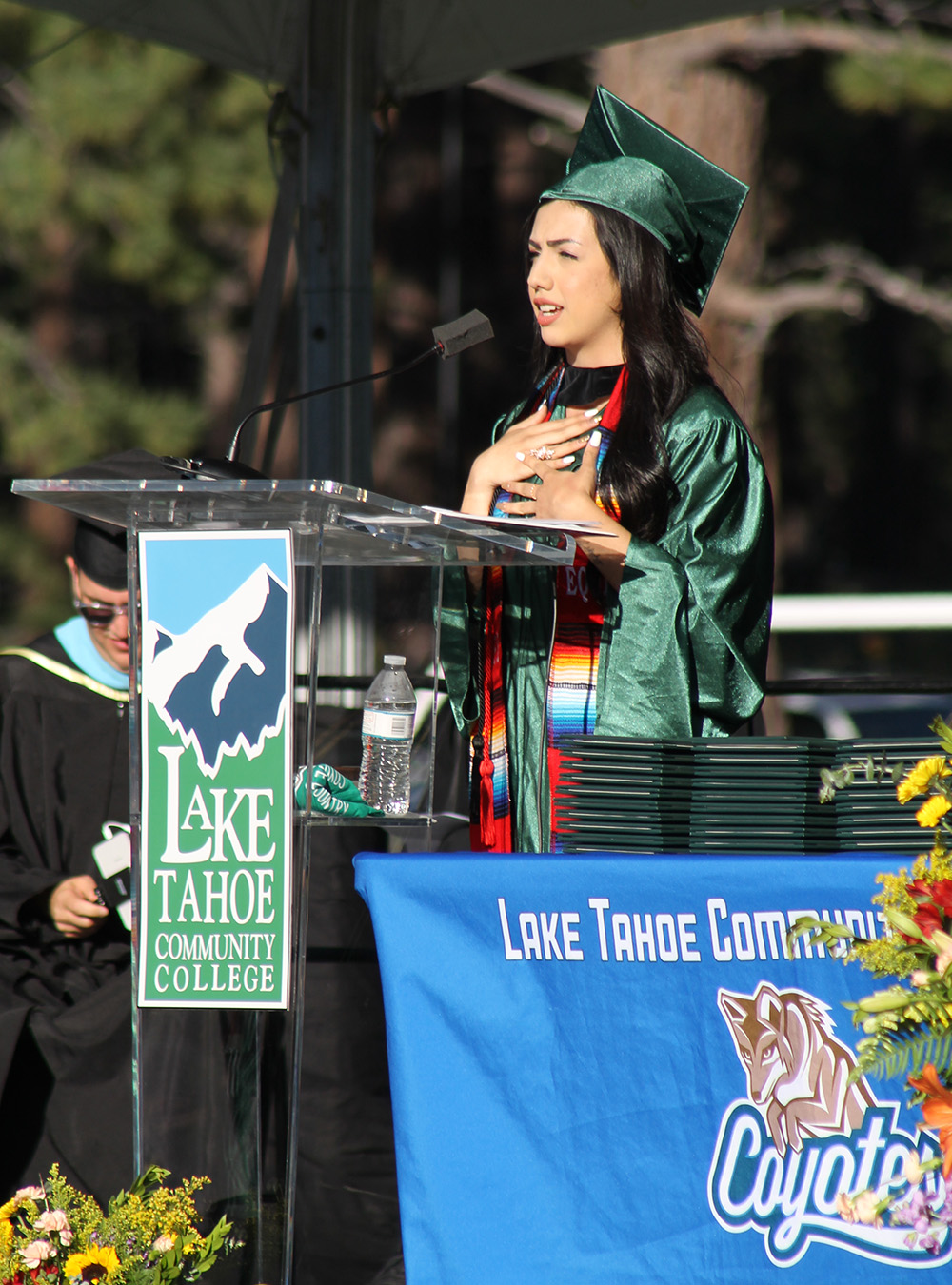 Approximately 185 students graduated with their Associate degrees from LTCC this academic year, with 83 of those earning a transfer degree that guarantees them a seat at a California State University school. Twenty students were awarded a vocational certificate of achievement by taking coursework in one of a number of specialized fields, including Culinary Arts and the Fire Academy. There were also nine Incarcerated Student Program graduates this year, who now have a brighter future to look forward to upon their release.
Also receiving their degrees this year were four Sierra Nevada College (SNC) students, the first graduating class out of SNC to complete their bachelor's degree coursework entirely on LTCC's campus.
"In 2016, LTCC and SNC resolved to form a unique and innovative partnership to increase the number of four-year degree recipients by creating high-value, affordable, seamless pathways for students at LTCC who wish to earn four-year degrees without leaving this campus," said SNC President Dr. Alan Walker. "Today, we have reached an important milestone in this partnership."
Belen Garza, who was selected to speak on behalf of all of LTCC's 2018 graduating students, gave a deeply personal and moving speech. "My parents made sacrifices for me. The biggest one was giving up their own educations to start work so they could give me a better life. So I knew, starting from a young age, that I wanted to pursue higher education. And here we are!"
Also speaking at the ceremony was LTCC's 2018 Distinguished Alumni Award winner, Bijou Community School Principal Cindy Martinez, who earned her first college degree at LTCC in 2002.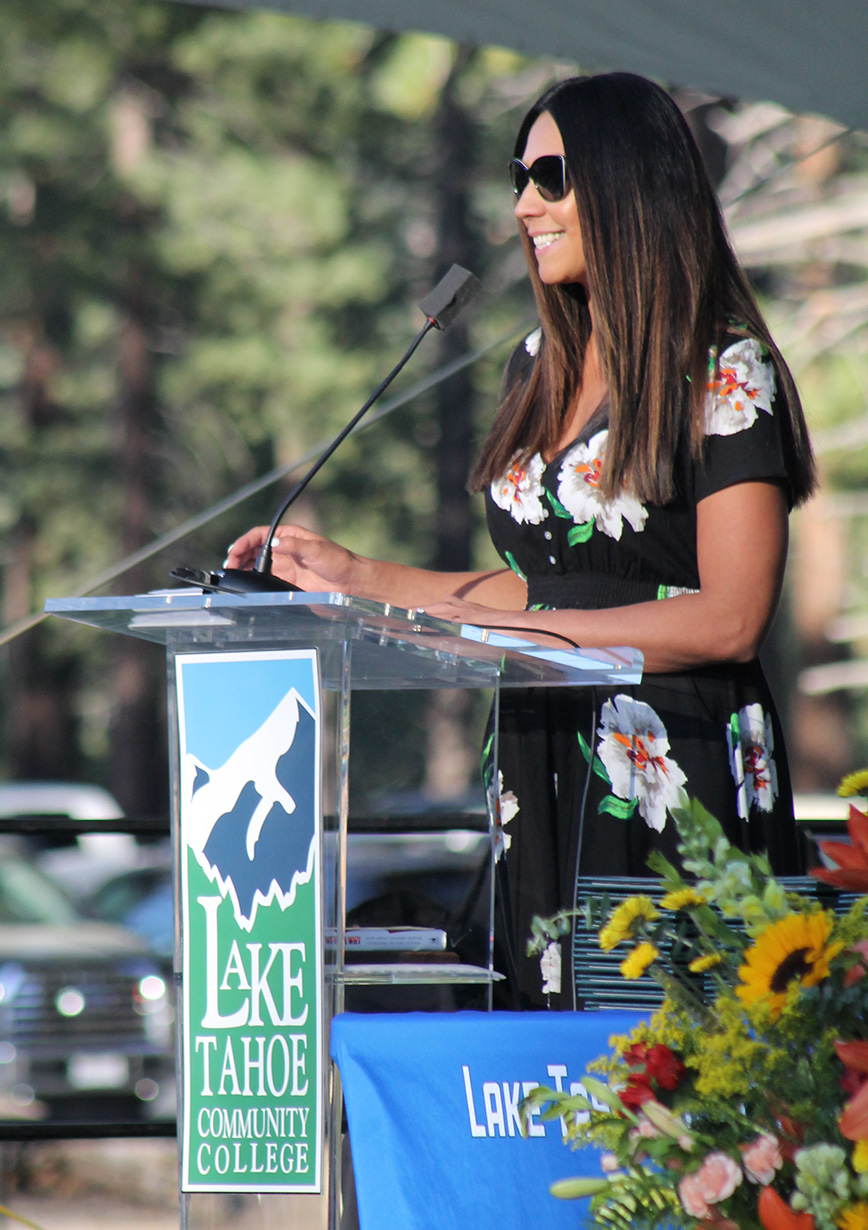 "Cindy is not only an LTCC graduate, but she is a champion of equity and education in our community," said President DeFranco in his introduction of Martinez. "Her passion for bilingual education will benefit generations of our community's youth for the rest of their lives."
"As a first generation college student, second language learner, Latina, and a female educational leader now, it gives me tremendous satisfaction to share this recognition with the youth of our community, who are now on their way to fulfilling their own individual passions," said Martinez in accepting her award. "As I reflect on my own journey, it is clear to me that my passion for education and advocacy is a direct result of my personal experience. Being born in South Lake Tahoe and raised in Mexico gave me a different perspective. As a newcomer and language learner attempting to integrate into a completely new environment, I encountered a number of challenges including language barriers, access to services, cultural differences, navigating the educational system, and at times, feelings of isolation or simply not fitting in. Those same obstacles are what motivate me now to do the work that I do today. It is not only my goal to provide support and resources to families facing similar challenges, but truly to advocate for approaches to empower all to succeed in bilingual, bi-literate, and multicultural settings where diversity is celebrated, and a strong cross-cultural community is fostered."
Another award bestowed during LTCC's graduation ceremony was for Teacher of the Year, selected by LTCC's students. This year's winner was Dr. Sue Kloss, a beloved Biological Sciences instructor at LTCC since 2001.
"Cheerful, dedicated, passionate and insightful are just some of the adjectives that come to mind when I think of this person," said LTCC Academic Senate President Dr. Mark Williams in announcing Dr. Kloss. "Her students say she is engaging, and that even after class she is always willing to stay late, answer your questions, and share her wealth of knowledge, which is SO vast!"
The entire graduation ceremony video is available on YouTube. Graduates and their families who are sharing photos and videos via social media are asked to please use the hashtag "LTCCgrad" in their posts so all of the great moments can be shared.