Tahoe Production House Delivers Captivating 2023 Live at Lakeview Commercial Tahoe Production House recently had the pleasure of producing the highly anticipated commercial for the 2023 Live at Lakeview concert series. This annual event is a highlight of the summer season, bringing together locals and visitors for a vibrant celebration of live music and community. The Live at Lakeview concert series showcases an impressive lineup of talented musicians against the breathtaking backdrop of Lake Tahoe. From renowned artists to emerging local bands, the concerts offer a diverse range of genres and performances that cater to a wide audience. With the stunning natural beauty of Lake Tahoe as the backdrop, it's no wonder that Live at Lakeview has become a beloved tradition for music lovers and outdoor enthusiasts alike. Tahoe Production House was thrilled to be entrusted with the task of creating the commercial for this year's Live at Lakeview. The team at Tahoe Production House approached the project with enthusiasm, creativity, and a commitment to capturing the essence of this extraordinary event. They understood the importance of showcasing the unique energy, atmosphere, and excitement that Live at Lakeview embodies. Post-production was a meticulous process, where the skilled editors at Tahoe Production House weaved together the footage, sound, and graphics to create a compelling and polished commercial. The completed commercial beautifully showcases the vibrant atmosphere, the excitement of the performances, and the natural splendor of Lake Tahoe. As the 2023 Live at Lakeview concert series approaches, the commercial produced by Tahoe Production House will serve as a powerful marketing tool, captivating audiences and generating anticipation for this incredible event. The commercial will be broadcasted across various platforms, reaching a wide audience and inspiring music lovers and adventure seekers to join in the festivities. Tahoe Production House is proud to have contributed their expertise and creativity to support Live at Lakeview, a cherished community event that brings people together through the universal language of music and the unparalleled beauty of Lake Tahoe. They look forward to witnessing the magic of Live at Lakeview unfold and capturing the moments that will make this year's concert series truly unforgettable. To experience the excitement and get a glimpse of what awaits at Live at Lakeview, be sure to check out the captivating commercial produced by Tahoe Production House. Join us in celebrating the summer season with live music, stunning views, and the vibrant community spirit of Live at Lakeview. Stay tuned for updates and announcements as the 2023 Live at Lakeview concert series approaches, and mark your calendars for an unforgettable summer of music and joy on the shores of Lake Tahoe. Watch the 2023 Live at Lakeview commercial here:
ABOUT LIVE AT LAKEVIEW
: Your favorite Summer Music Series is making a long overdue return this summer! We are beginning to accept artist applications. If you'd like to submit your band, your favorite band or your uncle Jim's band, fill out this application
linked here
. If you're interested in sponsoring the event or joining us as a vendor, please email LiveatLakeview@gmail.com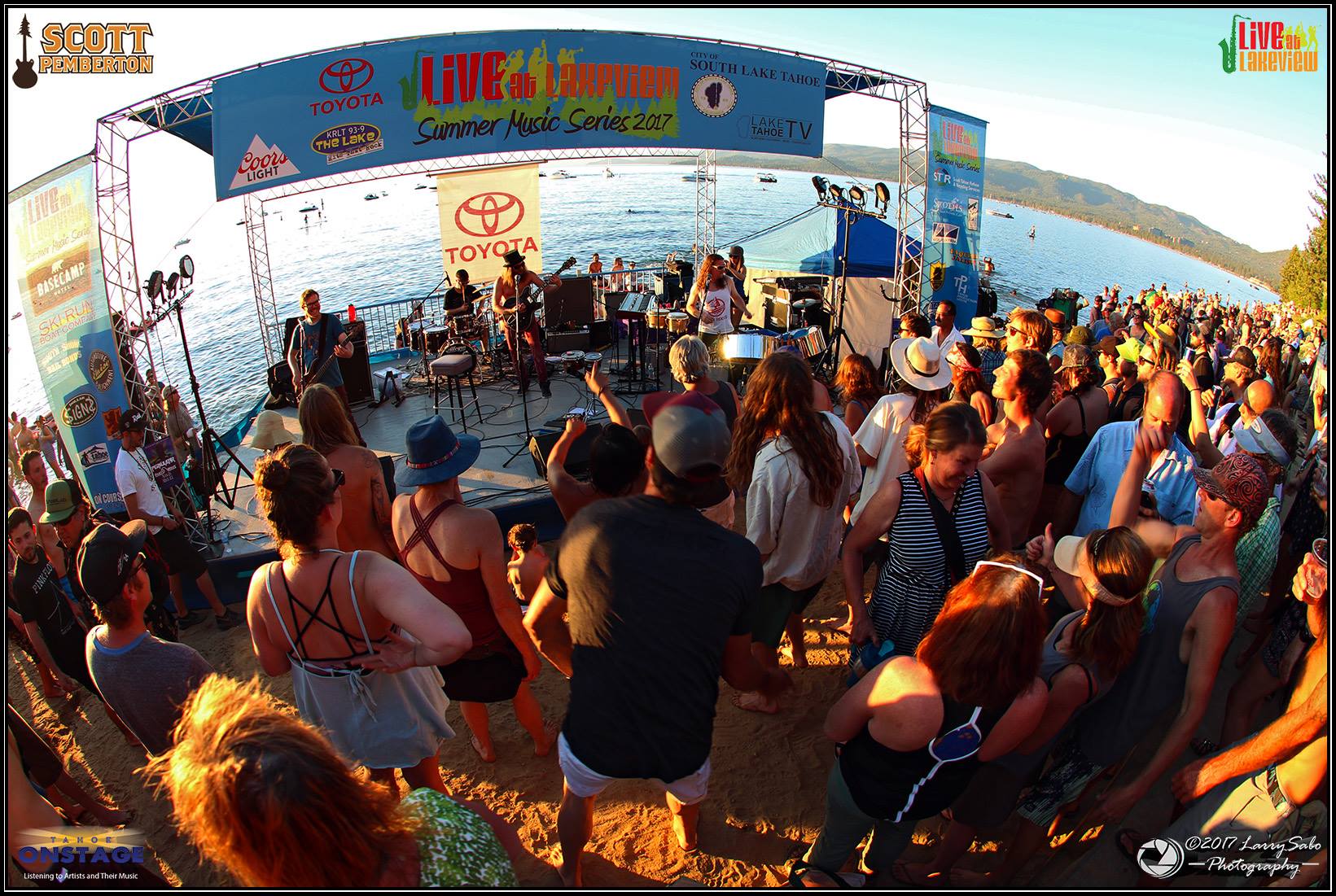 To stay connected  please follow @LiveatLakeview on 
Facebook
, 
Instagram
 and 
Twitter
.The series takes place at 
Lakeview Commons 
(intersection of US HWY 50 and Lakeview Avenue) every Thursday evening June 23 – August 25, 2022! Come enjoy live music, unique local vendors along the shore of beautiful Lake Tahoe! Stunning views, Stand up paddle board rentals, a beautiful sandy beach, amphitheater seating, and fun for the entire family!